of KEMBA Louisville Credit Union
The 83nd annual meeting was held May 24th, 2017, a Wednesday, at the Reide Room of the Saffin Center Hall of the Holy Family Church on Poplar Level Rd. in Louisville, KY. A catered dinner by reservation was followed by the annual meeting with the previous year's reports and then the door prizes were given out.
A special cake was on display and given out as a celebration of volunteer service of 27 years by Lucille Chesser as a Board of Directors member.
Thank you, Lucille, for 27 years of faithful service to KEMBA Louisville Credit Union!



(Estatement users: there are links at the bottom of each statement for Newsletters, etc., that can be printed.)
Click here to view or download the report. For Windows operating system users, you can right-click on the link and left-click on Print Target or Save Target As.
THANK YOU to everyone who attended to the business of YOUR credit union!
Make plans now to attend your business meeting in 2018 !
We will be looking for our members and their guests !
Check back here after the beginning of each new year for information.
(Advance Tickets are necessary for dinner only.
If you are only going to attend the meeting no ticket is necessary.)
Click on the picture to view a larger version of the collage from
May 24, 2017: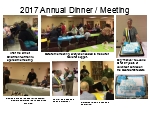 Click/Choose a link below to see a collage of last year's Annual Meeting April 27, 2016